In the rapidly changing world, technology is one of the things that evolve faster than anything else. At the same time, some businesses stick to using legacy software refusing to embrace new opportunities a new tech stack may bring. To give a better idea of the current situation with legacy systems, here are the results of a few studies. Almost three quarters (74%) of manufacturing and engineering companies are relying on legacy systems and spreadsheets to deal with day-to-day tasks. The situation is no better across other industries. 
The State of Application Modernization survey suggests that 65% of organizations are in the middle of the digital transformation journey. Businesses admit that the value of up-to-date applications is huge—from workflow optimization to better cost savings. Still, the biggest driver for modernizing applications is customer satisfaction. Respondents of the survey agree that delays in app modernization are dangerous and costly. For instance, 56% of enterprises failed to meet new regulations and 51% of companies couldn't scale to satisfy the growing demand. This suggests one idea — legacy application modernization should become an open-ended journey for all businesses striving not just to survive but also to thrive.
The Breakdown of the Technology Migration Process
To chart the right course for digital transformation and legacy system modernization, you've got to define what type of migration strategy will fit your needs better. You may build a new solution from the ground up or move the outdated software to a new platform to achieve greater scalability and cost savings. 
While the migration process can differ depending on the appropriate strategy, let us give a general understanding of how an average modernization project is arranged (for more information, check out the article on successful legacy technology migration):
Evaluating the legacy system according to the following parameters: business fit, business value,
agility, cost, complexity, and risk.

Looking at modernization options and selecting an appropriate one.

Planning updates and new components. 

Backing up data.

Executing a migration plan.

Testing the new environment.

Onboarding and staff training.

Further maintenance and support.
Bottlenecks of Legacy Application Migration
Migrating from a legacy system to a new system can be a complex and challenging process. Hence, there are several key challenges that organizations may face during this transition. Some of the biggest issues with legacy system migration are the following:
Compatibility issues

: Legacy systems may have been designed to work with older hardware and software, making it difficult to integrate with new technology. As a result, companies may need to develop custom solutions or use middleware to bridge the gap between the

legacy software

and the new system.

Data migration

: Legacy systems may contain a large amount of data that needs to be migrated to the new database. This can be a time-consuming process, and there is a risk of data loss or corruption if not done carefully.

Business process reengineering

: Legacy systems are often tightly integrated with an organization's business processes, and migrating to a new system may require significant changes to those processes. This can be a challenging task, as it may involve retraining staff and implementing new workflows.

Cost

: Migrating to a new system can be expensive, especially if custom solutions or middleware are required. There may also be hidden costs associated with the migration, such as downtime or lost productivity during the transition.

Risk

: Migrating from a legacy system to a new system carries a certain amount of risk, as there is always the possibility of data loss, system downtime, or other issues.
Overall, legacy system migration requires careful planning and execution to ensure a smooth transition to the new system without disrupting business operations.
Successful Use Cases of Legacy System Migration
Advantiss is a solution development company specializing in technology migration and modernization of outdated software. Over the years of operation, we have helped dozens of businesses keep up with the evolving technology and growing business needs.
Let's look at the most recent cases from our portfolio: Legacy Software Modernization for a Governmental Portal and Technology Migration and Integration of a 3D Training System for a Manufacturing Company.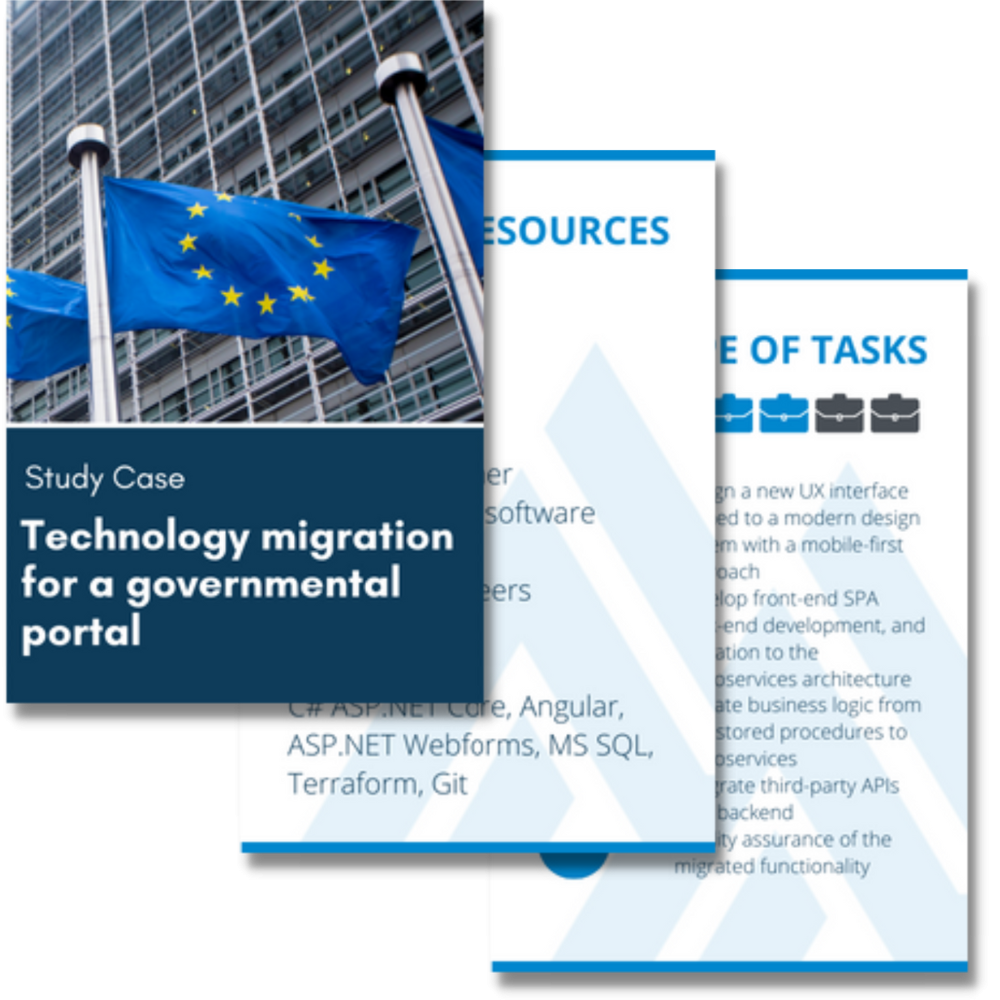 Migration for a Governmental Portal
The European government agency dealing with finance and taxes had been using a legacy system for several years. However, the system was becoming increasingly outdated and difficult to maintain, and it was unable to keep up with the agency's growing needs.
To address these issues, the agency decided to migrate the portal to a new, more modern system that could better support its current and future needs. They engaged AdvantISS, a software development company, to carry out the migration process. While the project was managed by an in-house project manager and business analyst, our team was in charge of redesigning the components, front-end, and back-end development, and quality assurance.
The migration process itself was complex, involving the transfer of large amounts of data from the legacy system to the new database. The Advantiss team used custom scripts and tools to extract, transform, and load the data into the new system, ensuring that it was accurate and complete.
In addition to the data migration, our team also had to redesign and rebuild several key features of the portal, including the user interface, search functionality, and integration with external systems. We also provided training and support to help the agency's staff adapt to the new system. Throughout the migration and modernization process, the Advantiss team worked closely with the agency to ensure that the new system met their requirements and that any issues or concerns were addressed promptly.
The result of the migration project was a modern, robust portal allowing the agency to deal with day-to-day tasks more efficiently. The new system was easier to maintain and more scalable, which ensures that the organization's growing needs will be properly handled by a new system.
Technology Migration and Integration of a 3D Training System for a Manufacturing Company
The client is a startup building sophisticated software products for manufacturing companies to conduct simulations of various aspects of their production lines. The company relied on outdated technology and was looking for a way to integrate a 3D training system into the infrastructure. It was looking for a vendor to bring in a team of experienced developers who will contribute to the development of architectural elements and the QA engineering setup. The client chose AdvantISS, a software development company, to obtain these services. 
The client's product has grown increasingly complex over time, requiring sophisticated architectural design and a robust QA engineering framework. So, AdvantISS provided a team of experienced developers who worked primarily with .NET technologies, C#, and Vue.js. We were responsible for most of the web stack development, including the migration of a legacy web management console application from Angular.js MVC to Vue.js SPA. Our team also developed new features for the web management console application of the main product solution and design features according to high-level business goals. We used Jenkins CI for managing our development pipeline and implemented an architecture design that met the client's requirements.
Our team played a crucial role in ensuring that the QA engineering side of the testing framework was implemented effectively to maintain and improve quality. We customized the system for each client and suggested several features that helped enhance the product's functionality.
As a result of our work, the client achieved several key outcomes. Our team made the transition of the project to more modern front-end technologies, making it easier to maintain and improve the product over time. The client had customer deliveries on four occasions during that period, demonstrating the product's success in the marketplace.
And what is next?
The rapid evolution of technology requires businesses to stay up-to-date and embrace new opportunities that a new tech stack can bring. The process of migrating from a legacy system to a new one can be complex and challenging, with compatibility issues, data migration, business process reengineering, cost, and risk as some of the biggest challenges. That is why it is important to obtain application modernization services from an experienced company like AdvantISS. Would like to discuss how our expertise will benefit your migration project? We are within your reach.