Legacy technology stands for outdated IT infrastructure, system, or software used by the company. Because it still tackles tasks and performs the intended functions, some organizations do not hurry to move to modernized and more advantageous solutions. Usually, these systems do not get support and maintenance, so they have limited growth opportunities. Hence, business operation optimization can face hurdles that will stop the company from reaching its goals.  
In other words, using outdated technology is similar to owning an old vehicle running down. It still works, but there are big questions regarding its performance.
Luckily, if you feel your company is ready to embrace cutting-edge technology and digitally transform your business to conquer new horizons, you can migrate the legacy system. When you modernize your legacy apps, you can optimize your maintenance cost by paying for the resources you use. Besides, you will get a modern and flexible environment that will give you better efficiency or let you deliver improved customer service. On top of that, your new tech stack will smoothly integrate with the rest of the tech ecosystem, so your team will unlock a new level of productivity.
In this article:
How to Choose the Right Migration Strategy
Legacy software migration doesn't happen overnight. Instead, it requires implementing a strategy that defines what processes will take place. Three commonly used migration strategies ensure a flawless move to the cloud or other cutting-edge computing systems: lift and shift, replatfrorming, and refactoring. 
It's important to pick the right strategy that fits your business objectives and needs. A successful migration strategy will help you avoid common problems by giving clues on how to plan and strategize the work.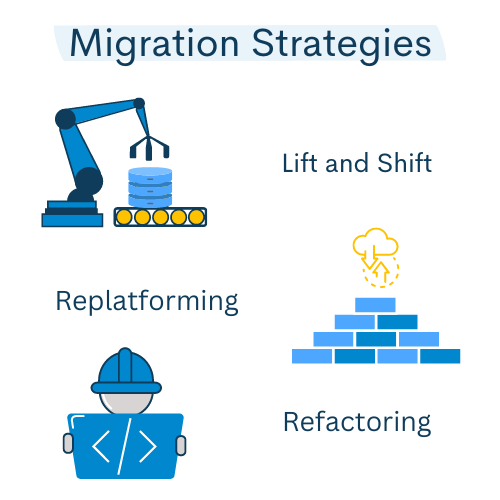 Lift and Shift
A Lift and Shift migration strategy, also known as rehosting, involves moving your application and associated data with minimal to no changes. In fact, you lift software, related files, and other data from the legacy system and locate them in a new hosting premise. Because of this, there are no critical changes to the app architecture, data flows, or business processes. 
Replatforming
Replatforming is another migration strategy that involves moving to a new environment with minor modifications in the application to gain more advantages. For example, you can change the way the application interacts with the database to reap benefits from an elastic cloud infrastructure. Also, you can optimize the software for reserved resources to leverage new environment flexibility and scalability. 
Refactoring
When you choose the refactoring moving strategy, you agree to re-architecture software so that it better fits a new environment. For this purpose, a large chunk of software code undergoes changes to enable new features that will become available after migration. This strategy may be the toughest to implement as it requires application code changes. However, if you select a qualified technological partner to implement the migration of the legacy system, that won't be a big deal.
What Steps Does the Technology Migration Project Consist Of?
Regardless of the strategy of legacy app migration you choose, this process can be broken down into the following steps.
Step 1 – Project Analysis
At first, you discuss your migration project and go over its details with the team. You define the best technology solution for your business, what type of data should be moved, and how your infrastructure will look after the migration. At this stage, you also determine the timing, technical requirements, and resources (both technical, financial, and talent) to carry out a successful legacy app modernization.
Step 2 – UI/UX design
When migrating your legacy application, you've got to ensure your upgrade does not negatively impact users in terms of their experience with the software. To ensure a smooth transition to a new system, you will need to take care of the UI/UX side of the migrated app.
Step 3 – Planning Updates and New Components
As you replace outdated technology with more robust modern solutions, this process may involve planning updates and new components of your legacy application. That's the best time to breathe new life into your software and add the lacking functionality that will help your team reach the peak of their performance or unlock a new level of interaction with your brand for users. 
Step 4 – Back up All Your Data
It's better to back up the files and other data when you migrate a legacy system to ensure you will get access to critical information in case of an emergency. This step will also reduce downtime when hard drive failure or server crashes occur.
Step 5 – Execute a
Migration Project
Plan
Follow the steps you set up for your business digital transformation. Of course, accidents happen, and there may be minor deviations from the plan. But, in general, it's better to stick to the set deadlines when achieving migration project goals.
Step 6 – Testing
Now it's time to check whether the migration of the legacy system to a new environment worked. So, test a new environment for data integrity, security, and minimal downtime. Besides, clarify if the migrated applications flawlessly operate in a new tech ecosystem. 
Step 7 – Onboarding 
When you carry migration of legacy software to improve employees' performance and yield new results, you may want to train your staff to use new resources. This will ensure your investment pays off quickly and your team effectively uses the technology to bring more value to your company.
Step 8 – Follow the Maintenance Plan
It's essential to run regular check-ups and control the performance of all the migrated assets. This will ensure you can spot minor issues and fix them before they start posing a severe threat. Also, you will be able to prevent troubles that may lead to serious financial losses.
What Are the Most Common and Hidden Mistakes of Legacy Software Migration
The scope of challenges during the migration of legacy technology depends on the migration processes. For example, it is essential to understand whether the process involves bringing data to a new system, migrating the app functionality, or both.
There are certain challenges associated with data migration. For example, handling the functional transfer of data stored in different conditions may be tricky. Also, your company may have difficulty defining what data sets should be migrated. As moving unnecessary data can increase the cost of the migration project, you may want to meticulously consider what data you want to take to a new system. In addition, sometimes, it is impossible to automate the migration. So, data must be entered manually, which significantly complicates the migration implementation.
Moreover, outdated databases may require you to restructure the database to map the new data model that will suit a new environment. It may sound complicated, but an experienced cloud migration company will help you overcome this issue.
Time management can become an issue when moving a legacy system. The entire project can suffer when the IT team fails to allocate enough time for key phases. That is why accurate planning is essential for system migration success.
Some companies have security concerns about digitally transforming their IT environment. They are afraid of cyber security and ransomware attacks. Luckily, cutting-edge solutions allow you to secure your infrastructure by offering different technology models.
Tips for Choosing a Technology Migration Team
Moving your legacy system to a modern environment will undoubtedly boost IT efficiency, improve performance, and enable IT cost optimization. However, it's not an easy task, so you will need to assemble a technology migration team to ensure your move is smooth and timely.
Even if you have an in-house IT department, you may want to set the migration process offshore by entrusting it to an experienced company qualified for this work. For example, Advantiss holds a seasoned team of technology migration experts who will apply their deep expertise and skills to your migration project. In addition, Advantiss developers will evaluate your current resources and plan for the future to let your company embrace a hitch-free journey to digital transformation.
When you hire the migration team, it's recommended to consider its structure. For example, when you move your legacy system to the cloud, the team should have a cloud engineer, cloud architect, cloud DevOps, cloud security engineer, compliance specialist, project manager, and more. The team architecture will depend on the size of your project and your needs. So make sure you involve enough talents to complete your migration. 
Also, when you consider several legacy technology migration companies, select the one that has a vast experience in data protection and security. The switch to the cloud, for example, may incorporate some security risks (especially when you choose a public cloud model), but skillful developers will secure you from the threats and will ensure your apps run in a protected environment.
What's next?
The need to digitally transform businesses to gain better sustainability, cost-effectiveness, performance and customer satisfaction is only taking its pace. While many companies have already abandoned their legacy systems and achieved improved business continuity and operation by migrating to a modern environment, there are still organizations that are yet to get ready for the change.
If your company is on its way to a more technologically advanced solution, the Advantiss team is here to discuss your project. We've been migrating legacy systems to more favorable environments for more than 6 years, so we have the right expertise to arrange a smooth and timely switch to modern technology.