The rollout of 5G technology, sustainability concerns, metaverse, and a continuing shift to a cloud infrastructure are changing how enterprises treat mobile enablement. It becomes more clear—you either adopt emerging mobile technology and replace legacy systems to move forward or you risk lagging behind while staying on the fence of digital transformation. 
Mobile has overtaken the desktop for dealing with day-to-day work-related tasks in different aspects. At the workplace, mobile devices are mainly used for email, telephoning, calendar management, and communication with colleagues. Other use value-added applications such as accessing the company's intranet seem to be put on the brakes, which means one thing. Enterprises lose opportunities for optimizing workflows, delivering better customer service, and removing mobility bottlenecks that keep your company from gaining the peak of operational efficiency.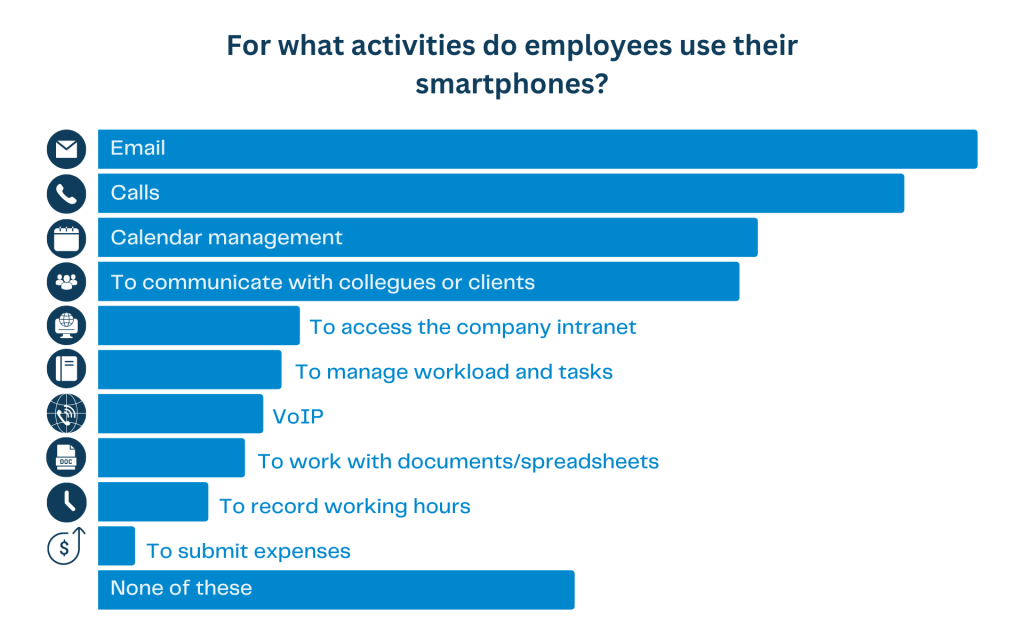 So, while mobile enablement for enterprise mobility is gaining momentum, it still remains an untapped field for many organizations. In this article, we will look at how mobile enablement will benefit your organization and what bottlenecks you may face on the route of its implementation. 
What Is Mobile Enablement?
The use of mobile devices at the workplace is getting more common and shows no signs of slowing down. But what exactly does it entitle? Let's see.
Mobile enablement is about offering employees flexible working options through the use of portable mobile devices for business purposes. To enable enterprise mobility, enterprises rely on cloud technology for data storage and access. It is also about empowering your staff or customers with seamless user experiences through mobile-responsive or mobile-first apps. Furthermore, mobile enablement allows migrating existing products or services onto mobile devices.
In a broader meaning, mobile enablement is one of the steps of a digital transformation journey. It is a response to the companies' demand to access business data on the go. Successful enablement involves the development and implementation of a mobile adoption strategy catered to specific business needs. 
The basic enterprise mobility solutions include:
App development and maintenance

Device procurement and management 

Security and identity management

Data management 
As you see, these digital transformation services cover a wide range of things. But, at the end of the day, their utmost goal is to ensure secure and smooth access of employees to corporate resources through cutting-edge technology and mobile apps. 
Benefits of Mobile Enablement for Businesses
When you want to foster your efforts in relation to the implementation of digital transformation of your enterprise, mobile enablement stands as a key aspect of its successful deployment.
Flexibility
If your organization strives to achieve enterprise mobility, the use of mobile devices and apps is one of the things that will help you accomplish this goal. As you mobilize your workforce, you create new opportunities for growth. From the customer's side, you will make your services available anywhere and anytime. Employees will also win as they will be able to access real-time information on the go.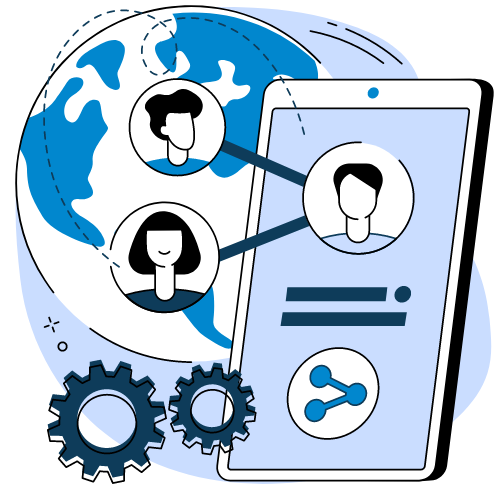 Efficiency and Productivity
Performance and convenience are the things that forward-looking enterprises cherish. In the era of smartphones, it seems impossible to arrange an effective workspace without these devices. No wonder cell phones have become key enablers of productivity at work. A mobility and work report published by Truce proves that employees believe mobility plays an increasingly important role in enabling them to do their jobs effectively. 
Additionally, mobile phones enable employees to stay connected. When the devices are readily available, it becomes easier to get a quick response, which is vital for decision-making.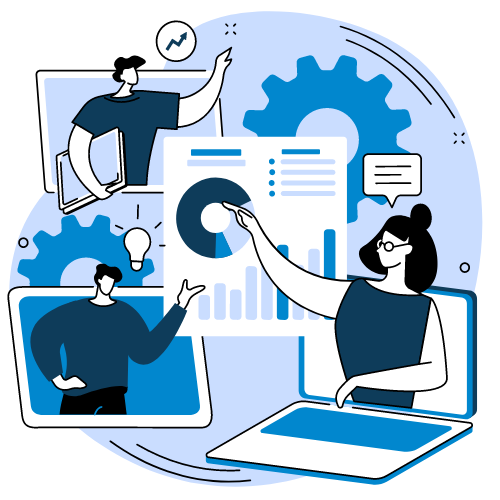 Security
Within the scope of digital transformation projects, security gets special attention. In the nearest future, the use of smartphones as digital IDs that allow accessing enterprise services and data is going to be mainstream. By enabling mobile devices, enterprises can take advantage of their built-in security feature: biometric authentication, remote wiping, and encryption.
This ensures secure access to sensitive business data and reduces the risk of data breaches.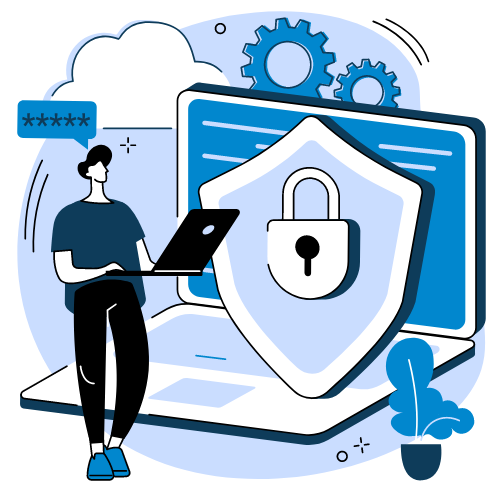 Cost-Efficiency
Enterprise mobility solutions reduce operational costs due to a few reasons. First, thanks to the bring your own device (BYOD) policy, the mobile implementation strategy can be implemented at little to no expense.
Second, smartphones and mobile apps help employees solve problems by providing better data, increased efficiency, and improved visibility. This significantly cuts the number of working hours spent processing paper-based forms and manually inputting information. Which, consequentially, results in cost savings.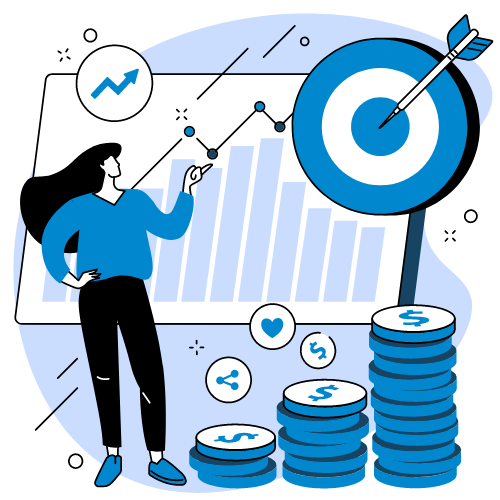 Industries Benefiting from Enterprise Mobility Services
That's not surprising that 93% of employees in the USA who spend at least a third of their time away from a desk use their cell phones for work every day. A mobile phone can be an effective tool for accessing or updating information remotely, communicating with customers, managing inventory, and much more. 
In fact, any industry will benefit from digital modernization. Let's name a few:
Real estate

for property management, communications with leads, streamlining the selling process, real-time tracking, and more.

Banking

for easier communication with clients on the go. 

Manufacturing

for improving field data collection, enhancing communication, and ensuring better plant operational effectiveness and emergency preparedness.

Retail

for effective inventory management, accepting payments through mobile terminals, communicating with customers, and improving logistics.
While many enterprises consider carrying digital transformation to optimize internal processes, the same effort toward their clients can be equally rewarding. Giving customers what they want through mobile enablement is a great way to drive more leads and grow revenue. 
For instance, when IKEA released an IKEA Place mobile app that allows buyers to see how its furniture will fit their room, that improved customer decision-making and significantly simplified the buying process. 
Similarly, Starbucks rolled out a mobile app to unlock a wide range of services for its customers. Coffee lovers can place an order ahead, customize the order, pay in the app, and collect rewards. You can even figure out what song is played in your local cafe at a particular moment through a mobile app.
Potential Challenges When Implementing Mobile Enablement
There is much more to implementing mobility solutions than just building a user-friendly app (though, it's also important). Mobile enablement is a complex process that requires a robust strategy. If you lack one, you may encounter challenges on your route. 
Interoperability
When you deploy a new mobile solution, you may find out that it doesn't work well with a legacy system or a third-party application. It happens both with off-the-rack and custom mobile apps.
How to avoid this issue: To do away with interoperability challenges, choose a trusted technical partner that will seamlessly integrate a new solution into old infrastructure. 
Additional maintenance
As you engage new devices for running your businesses, this implies conducting enterprise mobility management. To ensure your mobile app runs smoothly, you will need to monitor its performance, maintain, and update it. Also, corporate cell phones will require maintenance as well (encrypting data, configuring corporate profiles, setting up the remote control, etc.).  
How to avoid this issue: You may either engage an in-house tech team or outsource services from trusted companies that deal with the app and device maintenance. 
Scalability
As your company grows, your mobile system should evolve, too. The mobile solution you adopt should be able to scale to accommodate the growing number of internal and external users without points of failure.
How to avoid this issue: Partner with an experienced mobile app development company that excels in delivering scalable cloud-based mobile apps.
Security
Businesses lose 6 trillion USD a year because of cyberattacks. Mobile devices are becoming vulnerable to attacks and data breaches because of wireless internet access and other risks. Hence, mobile device security is one of the key points you should focus on when embracing digital transformation. 
How to avoid this issue: The mobile solution you deploy should house an infrastructure resistant to hacking. You should also think of steps your company takes in case of cell phone theft. You may want to protect devices with app code signatures, device certificates, and other protective measures.
Allowing employees to use mobile phones may be highly rewarding, but only if you have a clear strategy and offset the potential issues that may be on your way. If it's the first time you are going to enhance enterprise mobility with mobile enablement, it's better to start this route with a trusted and experienced technical partner.
AdvantISS is a custom solution development company with years of hands-on experience in mobile enablement. Whether you want to configure an off-the-rack mobile app or build one from scratch to meet your unique needs, our qualified experts are here for you. Moreover, we will outline a mobile enablement strategy catered to your enterprise goals and deploy it. Get in touch with our company's representative to arrange a call to discuss how AdvantISS expertise will help your enterprise embrace mobile devices.